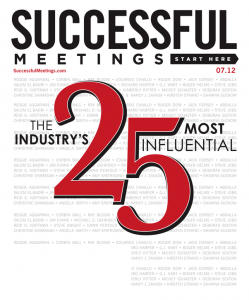 Kirsten Strand, CEO of Invenia and Co-Founder of MeetingApps.com, has been named one of the 25 most influential people in the meetings industry by Successful Meetings magazine.
The editorial staff of Successful Meetings magazine and MeetingNews selected the 25 influencers after reviewing highlights from the meetings industry, and based on who they believe to have accomplished initiatives that would have a lasting impact on the meetings industry. This year, the list features several notable figures, including Ray Bloom, Chairman of the IMEX Group, Reid G. Hoffman, Co-Founder of LinkedIn, the late Steve Jobs, former CEO of Apple and Shawna Suckow, President of the Senior Planners Industry Network.
Kirsten Strand is the CEO of Invenia, a global site selection and meeting consultation agency. She is passionate about creating useful tools for planners and tourism professionals. In 2010, she developed the concept for MeetingApps.com, a web portal to easily find apps for the meetings industry. Through the dedication of her technology partners, Joseph Lo and Jane Huynh, MeetingApps.com now has close to 3,000 apps and is utilized in over 100 countries.
For full article: Successful Meetings 25 Most Influential People in the Meetings Industry.