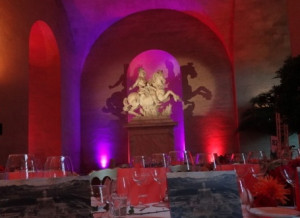 It's an ongoing conundrum – do you stay on-site at the hotel for your event and import the impact or do you venture off-site rely on the venue's character to influence and impress? Consider the secondary benefits of booking a special function off-site from your host hotel. Not only do you deliver an experience that motivates more than a function room, but you also help the local community and historic venue. Hosting an event at a unique location such as a palace or monument provides funds for much needed restoration, which helps preserve the cultural icon. The following are a few UNESCO World Heritage venues that deliver long-lasting, memorable events:
Royal Alcázar of Seville, Spain
Enjoy cocktails during an exclusive event at the Royal Alcázar of Seville, the oldest European royal residence. Originally a Moorish fort, it is now one of the most beautiful palaces in Spain, featuring centuries of architectural influences.
La Fortaleza and San Juan National Historic Site, Puerto Rico
This massive fortification at the western edge of the Caribbean was constructed between the 15th and 19th centuries, and consists of San Felipe del Morro, San Cristobal, and San Juan de la Cruz forts. For centuries the port and Fortaleza protected trade routes and fought off pirates and warships. Hosting a special event at this National Historic site helps ensure the structures are preserved to be enjoyed by future generations.
The Chateau de Versailles outside of Paris is a stunning location for a private event. Surrounded by 18th century French art and opulence, you can enjoy Champagne and hors d'oeuvres in a setting fit for Louis XIV himself.
First built in 220 BC to preserve China's borders, the Great Wall represents the world's largest military structure, its strategic importance only matched only by its architectural significance. An event on this historic site is a once-in-a-lifetime experience.
This towering monument in New York's harbour symbolizes freedom and democracy, welcoming the world to the United States of America. Host an exclusive special event on Liberty Island at this beloved national icon. Enjoy dinner on the stars at the base of Lady Liberty with the Manhattan skyline as your backdrop. A fireworks finale ensures an experience that will live forever.
Built on the Thames by William the Conqueror to protect London, this ancient fortress is available for hire as a unique special event venue.  An evening in an imposing piece of history is an impressive environment in which to host a medieval dinner, for guests more fortunate than those in centuries past!